En Août 2015 sort ce recueil de 2 histoires d'environ 120 pages chacune par Guy Haley et Josh Reynolds.
Présentation:


==> Ghal Maraz Hardback

Plague and devastation ravage the Mortal Realms, but there is hope yet, for Sigmar's Stormcast Eternals are paragons of justice and retribution. In Ghyran and the lands of Rotwater Blight, Lord-Castellant Grymn fights on, not only to avenge the death of Lord-Celestant Gardus but also to find the Hidden Vale of Alarielle, the Radiant Queen and ruler of the sylvaneth. Only with her aid can the pestilence that ails the land be turned back. Returning to the Hanging Valleys of Anvrok, Thostos Bladestorm is much changed, but he also carries a weighty truth... He has found Ghal Maraz, the great hammer of Sigmar itself. Reunited with Vandus Hammerhand, these two heroes and their warriors must conquer the Eldritch Fortress of Tzeentch and overthrow the dreaded Kairos Fateweaver if they are to retrieve this mighty artefact.


La peste et la dévastation ravagent les royaumes mortels, mais il y a encore espoir pour les Stormcast Eternels de Sigmar parangons de la justice et de châtiment. Dans Ghyran et les terres de Rotwater Blight, le Seigneur-Castellant Grymn se bat, non seulement pour venger la mort du Lord-Celestant Gardus mais aussi pour trouver le Hidden Vale d'Alarielle, la Radiante Reine et chef des sylvaneth. Seulement avec son aide la peste indisposant cette terre peut être révoquée.

Retournant à la Vallée des Pendus de Anvrok, Thostos Bladestorm est bien changé, mais il porte aussi une lourde vérité ... Il a trouvé Ghal Maraz, le grand marteau de Sigmar lui-même. Réunis avec Vandus Hammerhand, ces deux héros et leurs guerriers doivent conquérir la forteresse Eldritch de Tzeentch et renverser le redoutable Kairos Fateweaver s'ils veulent récupérer ce puissant artefact.

240 pages • Août 2015 • ISBN 9781849709866 • Illustration de Kai Lim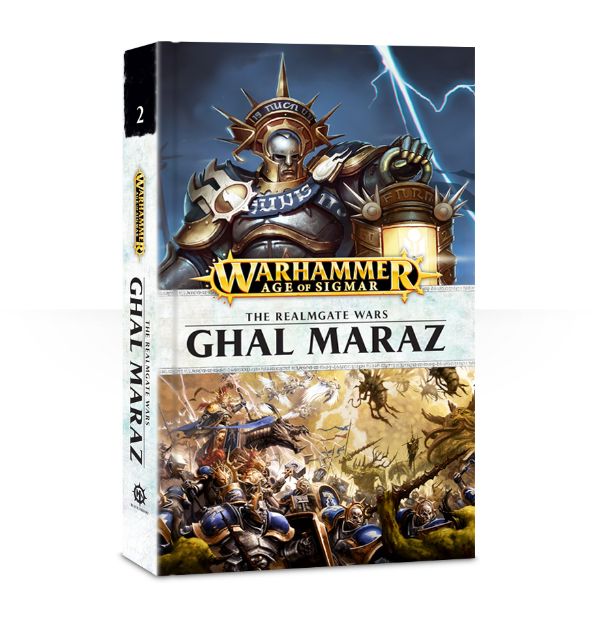 Nico.

Admin






Messages

: 9062


Age

: 29


Localisation

: Perugia



Sujets similaires
---
Permission de ce forum:
Vous
ne pouvez pas
répondre aux sujets dans ce forum