Seulement l'édition limitée pour le moment, nouvelle série dérivée de l'HH nommée
Horus Heresy Characters
.
Présentation:


==> Valdor: Birth of the Imperium Hardback

Constantin Valdor. It is a name that brings forth images of heroism, honour and peerless duty. For it is he who commands the will of the Legio Custodes that most esteemed and dedicated cadre of elite warriors. He is the Emperor's sword, His shield, His banner and he knows no equal. Clad in shining auramite, his fist clenched around the haft of his Guardian Spear, he is the bulwark against all enemies of the throne, within or without.


Nearing the end of the wars of Unity, Valdor's courage and purpose is put to the test as never before. The petty warlords and tyrants of Old Earth have been all but vanquished, and the Emperor's armies are triumphant. What now for the nascent Imperium and what fate its forgotten soldiers, its Thunder Warriors and armies of Unity? A new force is rising, one which shall eclipse all others and open the way to the stars. But change on Terra is seldom bloodless and for progress to be ensured darker deeds are necessary.


Constantin Valdor. C'est un nom qui fait apparaître des images d'héroïsme, d'honneur et de devoir sans pareil. C'est lui qui commande la volonté des Legio Custodes, qui est le cadre le plus estimé et le plus dévoué de ces guerriers d'élite. Il est l'épée de l'Empereur, son bouclier, son étendard et il ne connaît pas d'égal. Vêtu d'une auramite brillante, son poing serré autour du manche de sa lance de gardien, il est le rempart contre tous les ennemis du trône, à l'intérieur ou à l'extérieur.


Vers la fin des guerres de l'Unité, le courage et le dessein de Valdor sont mis à l'épreuve comme jamais auparavant. Les petits seigneurs de la guerre et les tyrans de l'ancienne Terre ont été presque vaincus et les armées de l'Empereur sont triomphantes. Qu'en est-il maintenant pour l'Imperium naissant et quel sort pour ses soldats oubliés, ses Thunder Warriors et ses armées de l'Unity ? Une nouvelle force se lève, qui éclipsera toutes les autres et ouvrira la voie aux étoiles. Mais les changements sur Terra sont rarement exempts de sang et pour que le progrès soit assuré, des actions plus sombres sont nécessaires.

272 pages • Octobre 2019 • ISBN 9781789990751 • Illustration par Adrian Smith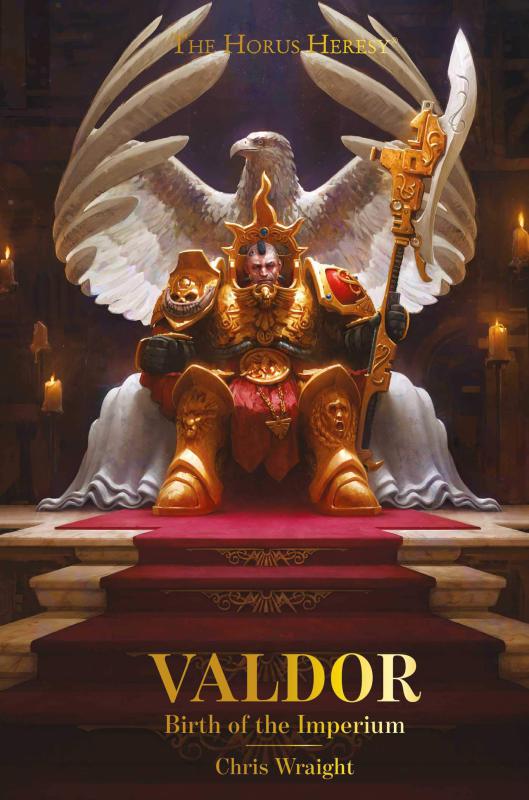 Artwork:
Spoiler:
Edition Limitée:
Spoiler:

ABOUT THIS EDITION
– Hardback book with spot UV and foiling on the cover
– Includes a full colour art page
– 4 coloured endpages
– Limited to 1,250 copies




Nico.

Admin






Messages

: 9077


Age

: 29


Localisation

: Perugia



---
Permission de ce forum:
Vous
ne pouvez pas
répondre aux sujets dans ce forum