Présentation:


==> Oaths and Conquests Hardback

The Mortal Realms are burning. The hope brought by Sigmar's storm is now nothing more than a dwindling light against the darkness of Chaos, as mighty warlords rise to prominence and teeming hordes of ratmen and greenskins threaten to topple civilisation altogether. Stormcast and mortal alike take up arms in defence of the bastions of Order, united in their hatred of Chaos. But every warrior killed in battle strengthens the legions of Nagash, which march relentlessly in their crusade against the living. This Age of Sigmar anthology includes thirteen tales concerning the oaths of the righteous, and the conquests of the damned.


Les Royaumes Mortels brûlent. L'espoir apporté par la tempête de Sigmar n'est plus qu'une lumière qui diminue contre les ténèbres du Chaos, alors que de puissants seigneurs de la guerre prennent de l'importance et que des hordes grouillantes d'hommes-rats et de peaux-vertes menacent de renverser complètement la civilisation. Stormcast et mortel prennent les armes pour défendre les bastions de l'Ordre, unis dans leur haine du Chaos. Mais chaque guerrier tué au combat renforce les légions de Nagash, qui marchent sans relâche dans leur croisade contre les vivants. Cette anthologie d'Age of Sigmar comprend treize contes concernant les serments des justes et les conquêtes des damnés.

416 pages • Février 2020 • ISBN 9781789992250 • Illustration de ?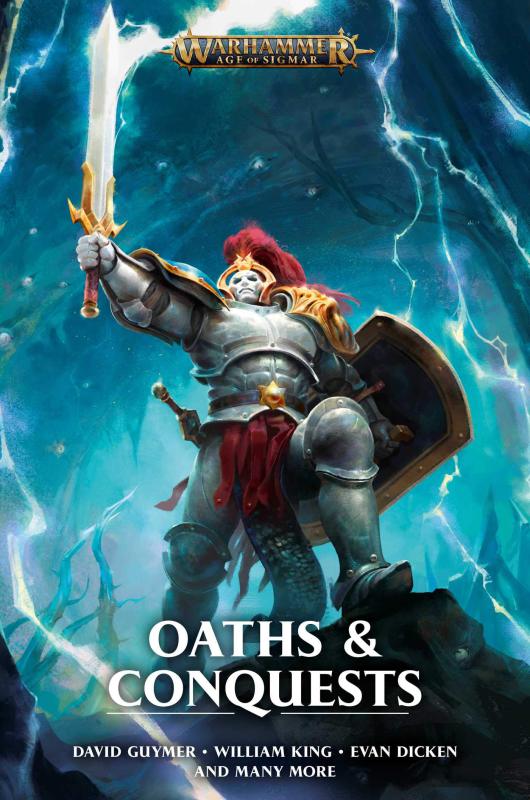 CONTENTS
The Fist of an Angry God by William King
The Garden of Mortal Delights by Robert Rath
Shriekstone by Evan Dicken
The Serpent's Bargain by Jamie Crisalli
A Tithe of Bone by Michael R Fletcher
Beneath the Rust by Graeme Lyon
The Unlamented Archpustulent of Clan Morbidus by David Guymer
The Siege of Greenspire by Anna Stephens
Ghosts of Khaphtar by Miles A Drake
Bossgrot by Eric Gregory
Ashes of Grimnir by Michael J Hollows
Blessed Oblivion by Dale Lucas
Blood of the Flayer by Richard Strachan



Nico.

Admin






Messages

: 9186


Age

: 30


Localisation

: Perugia



---
Permission de ce forum:
Vous
ne pouvez pas
répondre aux sujets dans ce forum