Crucible of War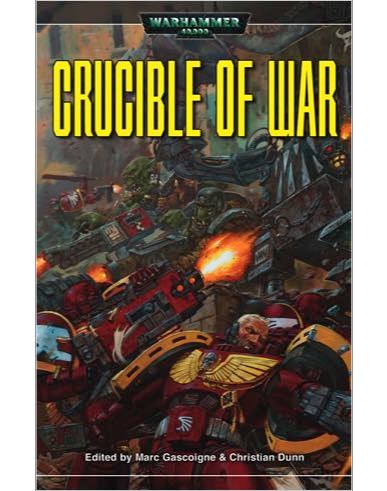 Les sources: http://www.spuler.us/40k/
http://www.blacklibrary.com/Downloads/Product/PDF//c/crucibleofwar.pdf
http://wh40k.lexicanum.com/wiki/Crucible_Of_War_(Anthology)
Ce recueil est paru en Juin 2003 en Angleterre.
Liberation Day
De Matthew Farrer et Edward Rusk
Aboard an Ork-controlled Space Hulk a group of human slaves not only escape their confinement, they manage to send out a distress signal that is picked up by nearby Space Marines. Or more accurately, Chaos Space Marines.
À bord d'un Space Hulk contrôlé par des Orks, un groupe d'esclaves arrivent à s'évader de leurs cellules mais également à envoyer un appel de détresse, qui est intercepté par des Space Marines proche de là. Ou pour être plus précis, des Space Marines du Chaos.
The Curiosity
De Dan Abnett
Magos Biologis Valentin Drusher, charged with compiling a complete record of indigenous fauna on the world of Gershom is somewhat perturbed when it appears that he missed out an apex predator from his list. Investigating this curiosity with the local Arbites and a hunter or two, Drusher discovers that his new form of fauna is anything but indigenous.
Le Magos Biologis Valentin Drusher, chargé de compiler un registre entier sur la faune indigène du monde Gershom, est quelque peu perturbé quand il apparaît qu'il a oublié un prédateur de sa liste. Enquêtant sur cette curiosité avec l'Arbites local et un chasseur ou deux, Drusher découvre que sa nouvelle forme de faune est tout sauf indigène.
Payback
De Graham McNeill
An illegal gun-running deal goes wrong for Constantine Barden on Karis Cephalon, leaving him injured and in serious trouble.
Une transaction d'arme illégale se passe mal pour Constantine Barden sur Karis Cephalon, le laissant blessé et dans de beaux draps.
The Emperor's Will
De David Charters
The Space Marines of the Storm Warriors Chapter, bloodied and wearied by a prolonged campaign, are on their way home. However, they are diverted at the last moment by an order to snuff out a nascent rebellion on the world of Tesra IV. Before the operation can begin, an Inquisitor arrives with a plan to clear the situation up in a more subtle way than the Space Marines are accustomed to.
Les Space Marines du chapitre des Storm Warriors, ensanglantés et lassés par une longue campagne, sont sur le chemin du retour. Cependant, ils sont déviés au dernier moment par un ordre leur demandant d'étouffer une rébellion naissante sur le monde de Tesra IV. Avant que l'opération puisse commencer, un Inquisiteur arrive avec un plan pour clarifier la situation d'une façon plus subtile que ce à quoi les Space Marines sont habitués.
Fight or Flight
De Sandy Mitchell
Nouvelle présente dans l'Omnibus de Ciaphas Cain.
On Mournful Wings
De Si Spurrier
Two recently orphaned thirteen year old boys, Ica and Dalus, undergo the selection process for recruitment into the Doom Eagles Space Marine Chapter.
Deux garçons récemment orphelins de 13 ans, Ica et Dalus, poursuivent le processus de sélection pour le recrutement au sein du chapitre Space Marines des Doom Eagles.
Backcloth For A Crown Additional
De Dan Abnett
When an old friend of Inquisitor Eisenhorn dies in suspicious circumstances, he takes it upon himself to investigate the matter.
Quand un vieil ami de l'Inquisiteur Eisenhorn meurt dans des conditions suspectes, il décide d'enquêter personnellement sur l'affaire.
Firestarter
De Jonathon Green
Je n'ai pas trouvé de résumé pour cette nouvelle.
Warp Spawn
De Matt Ralphs
Je n'ai pas trouvé de résumé pour cette nouvelle.
Leviathan
De Graham McNeill
Lord Admiral Lazlo Tiberius, captain of the Vae Victus, looked up from the pict-slate on his command pulpit and asked,
'Philotas, do you have a firing solution locked in on the closein surveyors yet?'
'Yes, sir,' answered Philotas. 'Shall I order battle stations?'
'Aye, battle stations,' confirmed Tiberius, descending from the pulpit and striding to the stone-rimmed command plotter where Captain Uriel Ventris and his Master of Surveyors awaited him. The admiral rubbed a hand over his scarred and hairless skull, staring at the new tactical plot that now displayed the exact position, course and speed of the intruder.
'Opinions?' demanded Tiberius.
'Well, it's drifting now,' said Philotas. 'That much we can tell from its speed. It's not travelling under its own power and it's a big one, that's for sure. It's no wonder the Tarsis Ultra system defence ships couldn't handle it. As to its course, it appears to be heading roughly towards the planet Chordelis. On its present heading it should pass out of the system without incident.'
'But we can't take that chance. We must treat it as a hostile contact until proven otherwise,' added Uriel.
'Agreed,' said Tiberius. 'How did it arrive in-system? A jump, or did it just drift in?'
'It just drifted in,' said Philotas. 'It appeared on the outer rim surveyors about five months ago, coming from below the galactic plane, but they are unmanned and the hulk did not passclose enough for a pict-capture. Howe ve r, it passed close enough to listening post Trajen for the adepts there to get a more precise fix on its position.'
'Damn,' hissed Tiberius. 'Can they estimate where it came from?'
'The senior magos believes it came from the regions of space we know to be controlled by an ork warlord known as the Arch Fiend of Octarius,' replied Philotas.
'What do you think, lord admiral?' asked Uriel. 'Is this the vanguard of an ork invasion?'
'No, I do not believe so,' said Tiberius.
'Why not?'
'Well, we would be seeing a lot more hulks if this was an invasion, Uriel. Orks don't come singly; they come en masse, in a green tide that smashes through anything in its way. You remember the reports we received following the invasion of Armageddon?'
Uriel and Philotas both nodded as the venerable admiral continued.
'Segmentum command at Bakka has issued several warnings of increased incidences of ork migrations from the realm of the Arch Fiend, but the strategos feel they are too fragmentary and disparate to be an invasion, and I agree.'
'Then if not an invasion, what is causing this migration?' asked Uriel.
'I do not know, but then you can never tell with the damned greenskins. Sector command seems to think that the orks are fleeing from something, as unlikely as that sounds.'
'But you think there are orks on board?'
'Aye,' said Tiberus pointing at a fluctuating set of numerals atthe side of the display, 'but I do not think they will be alive. The mass readings look about right, but the mean internal temperature is probably too low and there does not appear to be enough interior oxygen voids for anything to survive – even orks. I think we are just looking at something that has split from an even larger ship, but we need to know for sure.'
'Are the auguries picking up any anomalous readings?'
Uriel asked Philotas.
'None, but I wouldn't necessarily expect any just yet.'
Tiberius nodded.
'Continue monitoring anyway, I want to be ready for anything unexpected.'
'Yes, sir.'
'Range to target?'
'Nine thousand kilometres, lord admiral.'
A green icon winked into life on the display before Tiberius, indicating that the Thunderhawks in the prow flight-bays we re now prepped and ready for launch. The damage to the launch bays caused by an eldar ship en route to Pavonis had been repaired in the shipyards orbiting Calth and the Vae Victus wa s once again operating at full readiness. He pressed the flashing icon, acknowledging the information.
'Uriel, I want you and your men ready to launch within the hour.'
'We will be, lord admiral.'
'Plant those demolition charges quickly and get your men out of there, Uriel,' ordered Tiberius. 'You are not on the hunt for archaeotech here. I just want this thing destroyed.'
'Understood, lord admiral. From the sound of things, I don't expect to find anything troublesome over there, but if we do we'll be ready for it,' assured Uriel.
In Mortis est Gloriam!



Uriel Ventris

Premier Capitaine






Messages

: 1376


Age

: 33


Localisation

: Newcastle



J'imagine très bien la tête des esclaves quand ils ont vu les Space Marines du Chaos arrivés.
"Je suis l'Archi-ennemi, le Destructeur de Mondes. C'est par ma main que le faux Empereur sera déchu."
- Compendium XVI Légion Heresy Era -



Abaddon

Primarque






Messages

: 4418


Age

: 55


Localisation

: Oeil de la Terreur



Ouai je pense qu'ils sont retournés gentiment dans leurs cellules.
In Mortis est Gloriam!



Uriel Ventris

Premier Capitaine






Messages

: 1376


Age

: 33


Localisation

: Newcastle



Ah, les nouvelles ont l'air intéressantes.
J'espère qu'on aura une version française.



Emperor

Primarque






Messages

: 4489



De jolies nouvelles mais je ne pense pas qu'on les aura en Français vu que le livre est sorti en Anglais depuis 2003. Il serait déjà sorti en Français depuis le temps.

Codex Raven Guard



Corax

Maître de Guerre






Messages

: 6764


Age

: 42


Localisation

: Délivrance / Lorraine



Oui la traduction ne verra jamais le jour (même si on peut toujours rêvé..) Le fluf est beaucoup trop vieux malheureusement.
In Mortis est Gloriam!



Uriel Ventris

Premier Capitaine






Messages

: 1376


Age

: 33


Localisation

: Newcastle



Très intéressante cette présentation d'un recueil inédit.



Administration

Admin






Messages

: 6892



---
Permission de ce forum:
Vous
ne pouvez pas
répondre aux sujets dans ce forum