J'ai vu que cette petite nouveauté n'avait pas été postée dans le forum.
C'est une sortie Ebook mais qui annonce un nouveau roman à la liste des "bataille de l'astartes".
Auteur: Sarah Cawkwell
Résumé:
An Architect of Fate novella. Space Marines of the Blood Swords and Star Dragons Chapters are enlisted by Inquisitor Remigius of the Ordo Malleus to storm the infamous daemonship known as the Accursed Eternity. But all is not as it first appears, and what should have been a relatively simple mission rapidly devolves into a hellish warp-spawned nightmare – the stage is set for a galaxy-spanning tale of Chaotic intrigue and of a war which has lasted for ten-thousand years...




Ackie

Primarque






Messages

: 3312


Age

: 32


Localisation

: Belgique



Exact, je ne l'ai pas vu sur le forum.
Sarah Cawkwell est apparement connue pour ses publications dans H&B.
Le sujet à l'air d'être intéressant.
Dernière édition par Dark Apostle le Jeu 27 Oct 2011 - 23:26, édité 1 fois
Is Finecast using diamond mixed with cocaine?

La Galaxie en Flammes, le forum français de l'Hérésie d'Horus.



Dakka

Primarque






Messages

: 3776


Localisation

: Pom Pom Galli



C'est une des quatre novella qui vont composer le recueil  Architect of Fate.
Une première novalla est déjà sortie en début de mois : Endeavour of Will de Ben Counter.
An Architect of Fate novella. Chaos Space Marines of the Iron Warriors Legion launch a devastating attack upon their hated foes the Imperial Fists, crippling one of their principal starforts. Unperturbed, the heroic Captain Darnath Lysander withdraws his warriors to a second stronghold, the Endeavour of Will, to weather the rest of the assault. But as the Iron Warriors' methods are revealed, critical and desperate decisions must be made, lest their insidious techno-contagion spread throughout the Imperial Fists' fleet and beyond...
J'ai oublié effectivement d'en parlé à titre individuel, mais j'avais cité ce titre dans les Nesw de la Black Library mardi dernier.



Administration

Admin






Messages

: 6892



Architect of fate.. c'est Tzeentch non ?
Give a monkey a brain... And He'll swear that he's the center of the Universe



Roboutte Guilliman

Maître de Guerre






Messages

: 4523


Age

: 57


Localisation

: Suisse, Montpellier, Savoie.. Le multiverse quoi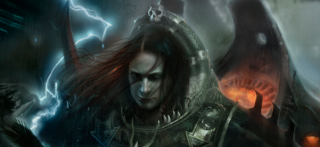 La mort hante les ténèbres, et elle connaît votre nom ! Je suis Night Haunter.
Non, ne t'envole pas, petit corbeau. Reste. Nous n'en avons pas terminé, toi et moi.( Konrad à Corax)
Vous êtes tellement plus que simplement abjects. (Konrad à Lorgar)
Ok, merci Horus, j'avais pas bien compris.




Ackie

Primarque






Messages

: 3312


Age

: 32


Localisation

: Belgique



Sujets similaires
---
Permission de ce forum:
Vous
ne pouvez pas
répondre aux sujets dans ce forum