En Avril 2015 sort un nouveau double audio,
The Eagles Talon / Iron Corpses
par David Annandale et John French.


==> THE EAGLE'S TALON / IRON CORPSES Audiodrama

After the destruction of Tallarn's once rich planetary ecology, it played host to the greatest armoured conflict that the Imperium had ever seen. The bitter and vengeful Iron Warriors now lead great warhosts across the befouled plains, engaging the loyal defenders of this world wherever they encounter them, and without further reinforcement the last outposts must surely soon fall. In desperation and with nothing left to lose, both sides resort to seemingly unthinkable measures in order to gain the upper hand - but will such actions bring about anything even remotely resembling victory?


Après la destruction de la planète Tallarn autrefois riche écologiquement, où c'est joué le plus grand conflit blindé que l'Imperium avait jamais vu. Les Iron Warriors amers et vindicatifs mènent maintenant grandes bandes guerrières à travers les plaines souillé, engageant les fidèles défenseurs de ce monde lorsqu'ils en rencontrent, et sans renforts ces derniers avant-postes vont sûrement bientôt tomber. En désespoir de cause et avec rien à perdre, les deux parties ont recours à des mesures apparemment impensable pour gagner haut la main - mais ces actions pourront-elles amener quelque chose ressemblant à une victoire ?


74min • Mars 2015 • ISBN 9781849708661 • Illustration par Neil Roberts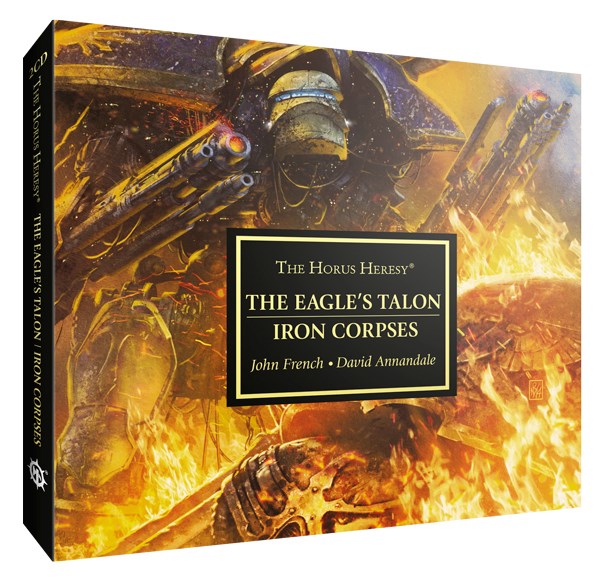 Dernière édition par Nico. le Ven 27 Fév 2015 - 14:28, édité 6 fois



Nico.

Admin






Messages

: 10080


Age

: 32


Localisation

: Perugia



C'est donc Tallarn... après le bombardement (Novella 1) et après le combat des blindés... la Novella 2 devrait donc bien arriver avant cet audio. Fin 2014 comme le suggèrent nos prédictions ?



Nico.

Admin






Messages

: 10080


Age

: 32


Localisation

: Perugia



The Eagle's Talon est disponible en MP3 sur le site BL. Ajout de la cover dans le premier post.



Nico.

Admin






Messages

: 10080


Age

: 32


Localisation

: Perugia



Des IF en mission d'infiltration dans un transport traitres (gardes et Mechanicum) pour eviter qu'il ne puisse délivrer sa cargaison. Ici on écoute les interceptions radio des IF durant la mission. Leurs doutes sur le bien fondé de la mission sur l'avenir des astartes ....
Pas trop mal mais tres tres dispensables




Dies Irae

Space Marine






Messages

: 199


Age

: 47


Localisation

: Oullins



---
Permission de ce forum:
Vous
ne pouvez pas
répondre aux sujets dans ce forum